April: Orioles Arrive
Left: Hooded Oriole
If you like bright colors, this is your month because showy Bullocks and Hooded Orioles, begin to arrive. Want them in your yard? Put out something orange, such as an orange-colored feeder with nectar and orange slices, or our Bird-Berry Jelly, which they love. They might build one of their soft hanging nests in a palm near your yard.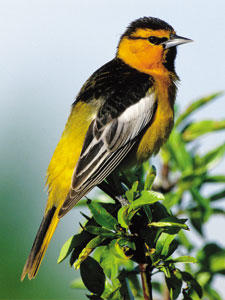 While we're on Orioles, a word about nectar. If you mix your own, never use anything but refined white sugar. Any sugar with even a hint of beige contains too much iron, especially for hummingbirds. So don't use brown, turbinado or organic sugars, all of which have higher amounts of iron than refined white sugar. The iron may be good for you, but it's bad for birds.
Right: Bullock's Oriole
Our colorful local Anna's and Allen's Hummingbirds are joined by a warm-weather migrant, the Black-chinned Hummingbirds. The chin may look black but the throat is a beautiful violet in the right light. Be sure to change the nectar in your feeders every five days as weather gets warmer.
Left: Black-Chinned Hummingbird Male
It's nesting season, and you can help. Hang pieces of yarn or string, or our Nesting Cotton balls on trees and bushes. Busy bird mothers will appreciate it.
Project FeederWatch ends this month. You still can download the app and post results from your feeders. Don't forget, there is also a photo contest. Sign up HERE. Here's how to participate:
1. Sign up: Join Project Feeder Watch
2. Learn how to participate
Earth Day is Thursday, April 22, and features events in every corner of Los Angeles, from meditation on the beach in Santa Monica to Arbor Day in Santa Clarita to White Point Nature Education Center in San Pedro to Moor Field at Alhambra High School. Joy Harjo, the first U.S. Poet Laureate who is Native American (Muscogee Nation), will read from her works at the Skirball Cultural Center where Mulholland crosses the 405.
Right: Swainson's Thrush, Russet-Backed, from All About Birds
Migrating through are the first Swainson's Thrushes. They are easier to hear than to see, as they are an undistinguished soft-reddish brown with speckles on their breasts. But, you can't miss their beautiful flute-like song, which spirals up the scale, punctuated by chirps. You can hear it HERE on All About Birds, by scrolling down to "California." To attract them, put out live worms in a small dish.
A flash of iridescent dark blue and bright white signals the arrival of Tree Swallows late this month. They like to stay close to water, such as coastal marshes and estuaries, where they can find flying bugs. Visit Malibu Lagoon or Ballona Wetlands to get a glimpse of them.
Left: Tree Swallow Male from All About Birds
If you feel that you haven't seen many shooting stars lately, you're right. The last four months have been pretty inactive (and also too cold to be out at night). But that changes in April, as the Lyrids light up the sky, peaking early morning April 22 The best time to watch is after 7:30 in the evening, when the moon sets.