Bird ID Resources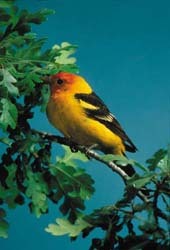 When you see a new or exciting bird, such as the beautiful one pictured above, you want to know what it is. Well, we're not going to tell you, yet. But we will direct you to some great resources, online or on your smart phone, that will help you, not only ID the bird, but also learn all about it. You'll find the answer somewhere on this page.
Here's some clues: This bird is about robin-sized, it is in a tree and observing the area, looking for fruit. Let's see if you can figure it out, using these guides. And, if you would like to join the millions of citizen scientists who report their sightings to bird organizations that monitor birds' will-being, we have resources for that, too.
Online
-- Cornell Lab of Ornithology's All About Birds -- Considered by many to be the most comprehensive online guide, All About Birds is richly adorned with photos, range maps and descriptions of bird behavior.
Hooded Oriole from All About Birds
-- Audubon Society Guide to North American Birds -- Another comprehensive online guide to birds in your area. Searches can be limited to a specific area, such as California.
Bird ID Apps
What if you're not in front of your computer, but out in your back yard or walking around the neighborhood, when you see an interesting bird? There are great apps for your mobile that you can use to identify birds and report your sightings. Unless otherwise noted, all apps work for both Android and iPhone.
--Merlin Bird ID -- Available free via Google Play and All About Birds, this app by the Cornell Lab of Ornithology guides you through 5 questions, such as size, color and activity, and presents a list of possible matches, including pictures. If you have taken a photo, upload it to Merlin to get a better list of possibles. Merlin draws on the impressive resources of All About Birds.
--Audubon Bird Guide: North America -- Available free from the Audubon Society and Google Play, this app not only IDs birds visually, but also includes bird songs. Sometimes you hear a bird long before you actually see it. It also includes a way to keep a record of your sightings, as well as providing reports of birds seen in your area from eBird (see below).
--Song Sleuth -- Developed by Wildlife Acoustics, in collaboration with bird expert and illustrator David Allen Sibley, this $9.99 app records the bird songs you are hearing and suggests matching species. Visit Song Sleuth for more information.
Bird Tracker/Reporter Apps
--eBird -- Created by the Cornell School of Ornithology, this app lets you become a citizen-scientist, not just identifying birds but also reporting what you have seen. Download it from Google Play. First-time users should read the online guide, Getting Started with eBird Mobile. eBird data also is used in other apps, such as Merlin and Audubon, to guide you to locations where others have seen birds that interest you. Subaru even included eBird in its Starlink infotainment system in the 2019 Ascent SUV.
Books (all available at Wild Birds Unlimited Santa Monica)
-- Sibley Birds West -- Our favorite comprehensive guide to the birds of the western United States by one of the premier bird experts and bird illustrator David Allen Sibley. Includes extensive illustrations of plumage for males, females and juveniles, range maps, bird groupings, even bird anatomy. The compact size fits your hand or backpack with ease, all for just $19.99. If you want the acclaimed full guide for all of North America, we have that, too, for $40.
-- Peterson Field Guide to Birds of North America -- A landmark when it was first published just over 100 years ago, Roger Tory Peterson's beautifully illustrated guide still inspires bird enthusiasts. Recently updated by several noted bird experts, it helps newcomers learn what details to look for when identifying birds. $26.
-- Birds of California -- This compact field guide by naturalist and photographer Stan Tekiela ($16.95) has a full page of closeup photos for each of the 170 birds described. With descriptions of males, females and young, range maps, nest types and preferred foods, this guide is a great reference for any California bird enthusiast.
-- Birds of Southern California -- Also sized for your hand and backpack, this field guide ($24.99) has hundreds of photos of birds that can be seen from Blythe to Bakersfield and from San Diego to San Luis Obispo. It includes descriptions, behavior and where to find the birds. Written by Kimball L. Garrett of the Museum of Natural History in Los Angeles, Los Angeles native John L. Dunn, a consultant to bird organizations, such as the American Ornithologist Union, and Brian E. Small, professional wildlife photographer and field-guide author.
Oh, and the gorgeous unidentified little bird at the beginning? It's a Western Tanager.