August: Goodbye Orioles, Hello Warblers
Left: Wilson's Warbler (male) from All About Birds
The earliest fall songbird migrants arrive this month. The yellow Wilson's Warblers, with distinctive black-caps on the males, are often the first to pass through. They're headed up the coast, though a few stick around for the winter if they find a nice willow thicket in the coastal lowlands. Also loving the willows are the Yellow Warblers, who look similar but without the black cap. They can be found even along the LA River in Elysian Park. A third common August visitor is the greenish-yellow Orange-Crowned Warbler. The orange streak on its head is barely visible, but the eyes have light yellow outlines..
Right: Orange-Crowned Warbler male from All About Birds
August is when Orioles, with breeding complete, start to pack up for their fall migration south for the winter. Many males are gone by the end of the month. Still, female and juvenile Orioles will frequent local feeders looking for nectar and jelly to be ready for their journeys.
Also departing soon are colorful Black-Headed Grosbeaks, who like fruit and berries as much as sunflower seeds. Until they go, enjoy their cheerful chirpy song.
Left: Female Red-Necked Phalarope (All About Birds)
Common large seagulls, such as the Heerman's Gulls and the Western Gulls, are at their greatest numbers. A special migrant is the petit Red-Necked Phalarope (left). Unlike most birds, the females are more brightly colored than the males. Phalaropes can be spotted until October in coastal estuaries, such as Malibu Lagoon or the Ballona Wetlands.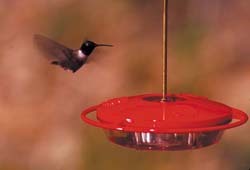 We have our local hummingbirds almost all year, though the Black-Chinned Hummingbirds may depart starting the end of August for warmer climes. For the Anna's and Allen's Hummingbirds August will see the the last fledglings coming to your feeders. Desert-loving Costa's Hummingbirds, with bright purple heads on the males, may flee the hottest desert areas for the coast in August.
Right: Black-Chinned Hummingbird at a feeder
The justly famous Perseid Meteor Shower will peak, as it always does, the night of August 11, though there will be plenty of activity several days before and after that date. This year the moon will be half full on the 11th, but the show still should be good.