Join the Flock!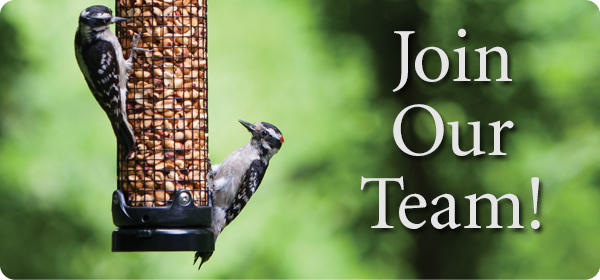 Are you our next great employee?
Working at Wild Birds Unlimited Santa Monica is an opportunity to support and educate our friendly customers about birds and nature. The difference between Wild Birds Unlimited Santa Monica and other retailers goes far beyond what we sell. It's who we are. Enthusiasm, professionalism, informed expert advice and superior customer service are the hallmarks of our staff.
We are accepting applications for a Sales Associate with great retail and service skills. Ultimate responsibility is to work with our sales team to create an unsurpassed customer experience. Our training program will teach a nature lover the bird, hobby, product and sales knowledge needed to work with our great customers to bring to life the store's mission – "We Bring People and Nature Together®…And We Do It With Excellence!"
Requirements:
Previous retail experience preferred, but not required.
Ability to lift and carry up to 50 lbs of seed for our customers – a foundation of our service!
We are looking for a part-time associate to work weekdays and weekend hours. Schedules are flexible. Must be available during the busy holiday season.
Must have an interest in nature and wildlife - required.
Must be friendly and outgoing and have a desire to work with the public.
Comfortable working with computers and computer-based POS system (training provided), Word and Excel.
Our goal is to provide quality products, service, expertise and a high energy shopping experience. Help customers bring nature into their own backyards and lives. Come join our team!
Apply for this Position
To apply for this position, please send your resume to [email protected]. Please refrain from dropping off applications in person as we are focused on assisting customers during store hours. An additional application may be required for qualified applicants.
We offer competitive wages, employee discounts, excellent training, and a positive and supportive work environment. We look forward to receiving your resume. Enjoy the Birds!