December: Flocks at Your Feeders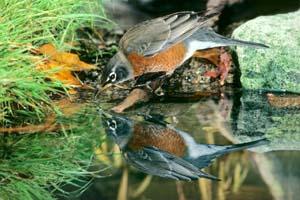 The combination of cool weather and rain should bring many more customers to your feeders, including some migrants, such as Robins. Think about adding worms to your winter offerings.

And, the robins that you see at this time probably are looking for water. You may see them in flocks, if you have a bird bath.
Project FeederWatch continues until April, so it's not too late to join in. See our FeederWatch Page for all the details.
The Audubon Christmas Bird Count takes place from Saturday, December 14, 2019 through Sunday, January 5, 2020. Sign up with one of their local groups (see the map on the web site) to join in.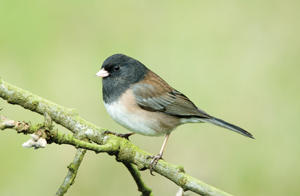 Juncos are on the hunt for white millet along with Towhees, White-Crowned Sparrows and other ground feeders. Watch for an increasing number searching beneath your seed feeders.
Right: A Black-Headed Junco
Winter also is when duck and geese migrants are in peak numbers locally. A good place to see them is at parks with fresh-water features, such as fountains, pools or lakes. You also could check larger estuaries, such as Mugu Lagoon, upper Newport Bay and larger river bottoms, such as the San Gabriel River in El Monte and Pico Rivera. .
Other welcome migrant visitors are flocks of beautiful Cedar Waxwings. They usually take over a favorite tree or group of trees en masse, looking for berries
Rafts of Western Grebes form behind the surf zone, though you'll need scopes to look for the very similar Clark's Grebes, who may be farther out.. The Clark's Grebes are distinguished by their orangeish beaks.
Both the Western and Clark's Grebes give their adorable babies a lift on their backs.
Left, a Western Grebe mother gives new meaning to "Baby on Board." (from All About Birds)

At the shore flocks of Surf Scoters form behind the surf zone. These large, 20-inch-long ducks are along our coast from November to April. They dive for mussels and other mollusks around piers and rocks by the shore. Watch also for their relatives, the Black and White-winged Scoters.
Friday, December 13 is the height of the Geminid Meteor Shower, though viewers will be fighting a past-full moon to get a view. According to Space.com the shower is getting stronger each year because "Jupiter's gravity has tugged the stream of particles from the shower's source, the asteroid 3200 Phaethon, closer to Earth over the centuries."