December: Busy Feeders, Waxwings and Ducks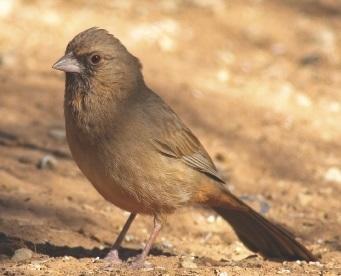 What's all that chirping and carrying on in your back yard? It's the birds at your feeders, and they've brought some friends. As the weather cools and (fingers crossed) rains arrive, the business at your feeders will become more and more intense. The ground feeders, the White-Crowned Sparrows, California Towhees and Dark-Eyed Juncos, will be scratching for seeds under your feeders, while the House Finches and innumerable warblers will be looking for seeds and worms. And the cheerful Goldfinches are back from a short vacation in the mountains, climbing over nyjer feeders, 6 or 8 at a time.
Left: A California Towhee ready to scour the ground for seeds
Audubon's annual Christmas Bird Count runs from Dec. 14, through Jan. 5. The count is organized by local "circles" 15 miles in diameter, each of which chooses one day during that time to do its count. To sign up and find out more about your local circle, visit the Christmas Bird Count web site.
The Los Angeles circle stretches from downtown to the ocean. The organizer is Daniel Cooper, email: [email protected] There is another circle for Malibu and the Santa Monica Mountains, and a third for the San Fernando Valley. Count volunteers follow specified routes within their local circle, counting every bird they see or hear all day. Novice counters usually are paired with a veteran counter to help them identify birds. If a volunteer's home is within the local circle, then the volunteer can arrange with the circle's organizer to stay home and report the birds that visit their feeder on count day
Below: A Western Scrub Jay eyes a peanut feeder (Larry Naylor).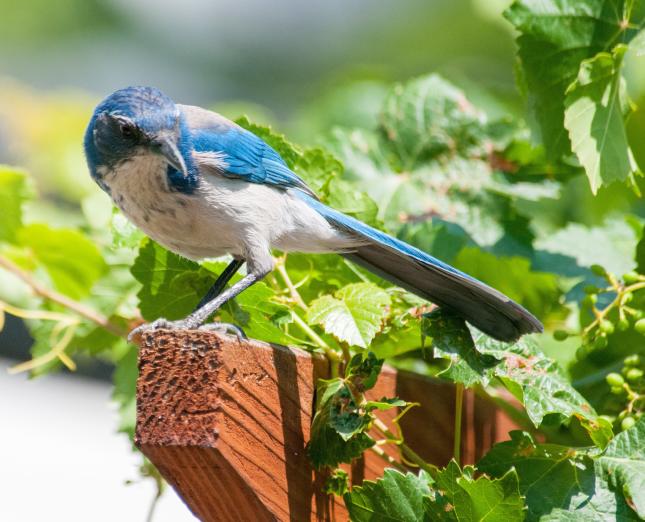 Winter is when the larger birds, especially corvids, stave off the cold with something richer than their usual diet. Make a Western Scrub-Jay's day with a dish of peanuts in the shell. The local Crows will help them eat, and will remember your generosity. Cute White-breasted Nuthatches will appreciate a feeder with suet to see them through the cool nights.
Project FeederWatch, the popular citizen-scientist project of the Cornell Lab of Ornithology, continues through early April. Go to the FeederWatch web site to sign up.
Below: A Cedar Waxwing enjoys a tree full of berries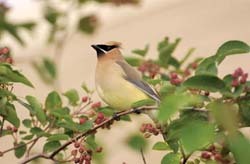 One of the nicest surprises of the cool weather is flocks of Cedar Waxwings. These beautiful birds turn up anywhere there are leftover berries or fruits hanging on branches. They sit in lines along tree branches and sometimes even pass berries down the line to other members of the flock.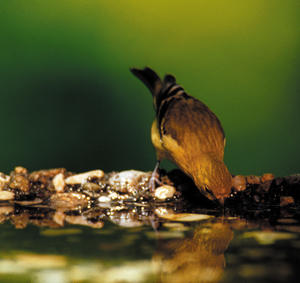 Visit any park with a pool or pond, such as Douglas Park in Santa Monica or the lake at Kenneth Hahn State Recreation Center, and you will see more birds than any other time of the year. No only are there the usual Mallards (some of whom are here year round), but also American Wigeons (with a Nike-like swoosh of green on their heads) and beautiful Green-Winged Teal. There even may be migrant Canada Geese and their smaller cousins, the Cackling Geese. Black Coots join in the fun.
Even though it rains in winter (maybe), birds still need a reliable source of water. A birdbath or fountain will attract flocks, such as robins, to your yard.
The Geminid Meteor Shower, one of the best shows of the year, peaks on the night between Dec. 13 and 14. The Geminids can produce more than 150 visible meteirs an hour. Bundle up, find a sheltered spot and enjoy the beauty.