December: Juncos, Waxwings and Ducks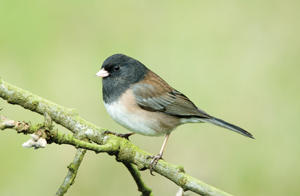 Dark-Eyed Juncos are showing up in greater numbers as we move into winter. Though these hardy birds can survive mountain winters, they are also visiting parks and residential neighborhoods this time of year. They often can be seen hopping on the ground beneath a seed feeder eager to snap up dropped morsels.
Left: Dark-Eyed Junco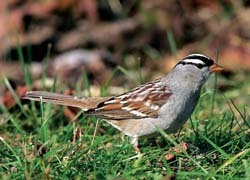 They won't be alone under that feeder, as a number of ground-feeding birds, such as Spotted and California Towhees and White-Crowned Sparrows, are around in large numbers this time of year. Some added white millet is one of their favorites. Right: White-Crowned Sparrow (All About Birds)
Project FeederWatch continues this month and runs until April. Be a citizen-scientist and sign up to help take stock of your local birds. You can spend as much or as little time as you wish watching and recording visitors to your feeders. For more information visit our Project FeederWatch page.
Winter is when flocks of migrant ducks show up in Southern California, from the well-known Mallard (some of whom are here year round, to the Canvasbacks (white back and wings) to the beautiful Green-Winged Teal. They all frequent local lakes and estuaries. In calm salt water, such as harbors or sheltered bays, one can see black Surf Scoters diving for mollusks. They are distinguished by white patches on their heads.
Left: Green-Winged Teal (All About Birds)
If you have fruiting trees or bushes, Cedar Waxwings may descend on them in big flocks. A beautiful soft brown with dashing black masks and red-pointed wings, Waxwings are a colorful treat when they visit your yard. They sit close together on branches and have been known to pass each other berries.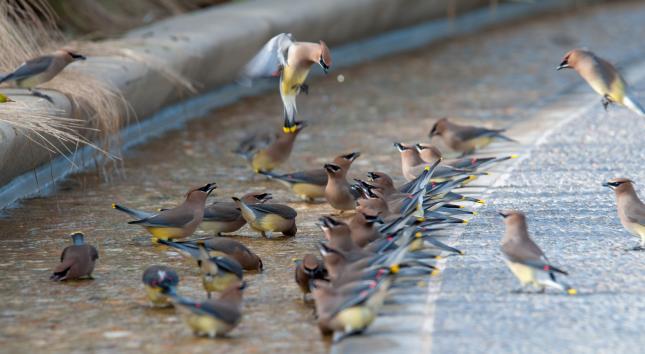 Right: Cedar Waxwings at Tongva Park (Larry Naylor)
Your fruiting bushes also may attract American Robins, who often flock with Waxwings in the winter. Well-known for their prowess as worm catchers, the robins also go for berries of all kinds, and will add their sweet song to your yard.
The Audubon Christmas Bird Count is this month. Information about how to join one of the oldest citizen-scientist projects is on their Christmas Bird Count Page () https://www.audubon.org/conservation/join-christmas-bird-count.
The annual Geminid Meteor Shower peaks Dec, 13 and 14. However, the weekends before and after could provide good viewing. The Geminids are bright, so Many nights could put on a good show..For detailed information about how to see the Geminids, visit Time and Date.
The next "king tide," the highest tides of the year, will be Dec. 13-15, 2020. They are another opportunity to be a citizen-scientist. The California Coastal Commission is asking photographers to take pictures of the unusually high tides this time of year. If you would like to participate, go to their King Tides Project web page to find out more. Photographing on a beach or estuary is also a great time to see some of our local shore birds as well.