October: The Great Migration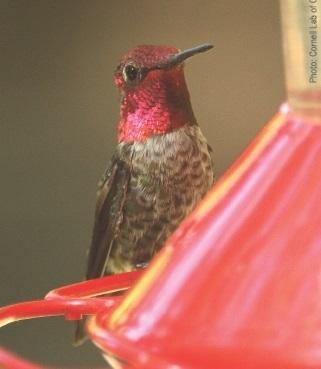 Left: Anna's Hummingbird at a feeder
Keep your hummingbird feeders filled and clean, because, unlike most parts of the U.S., our hummingbirds don't migrate. They are here all year. Fall may produce a few unusual visitors, such as Costa's Hummingbirds, who leave the high desert in the fall and head to warmer areas. A few may stay in gardens with ornamental sages and even interbreed with Anna's Hummingbirds to create beautiful hybrids.
October is the peak of the southward migration. Some of the birds heading south end up staying all winter, such as White-crowned and Chipping Sparrows, and a few warblers. Yellow-Rumped Warblers stay to enjoy our plentiful bugs and worms. Those just passing through include Green-tailed Towhees, which are rare at the coast except while migrating, as well as beautiful Yellow Warblers and the black-streaked Lincoln's Sparrows.
Below: Song Sparrow at a birdbath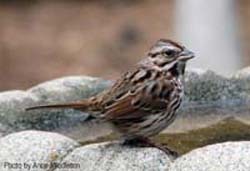 Song Sparrows also stay with us all year, if they are able to find wetter or marshy areas. There are 25 subspecies of Song Sparrows in North America, but only the heermanni is widespread in SoCal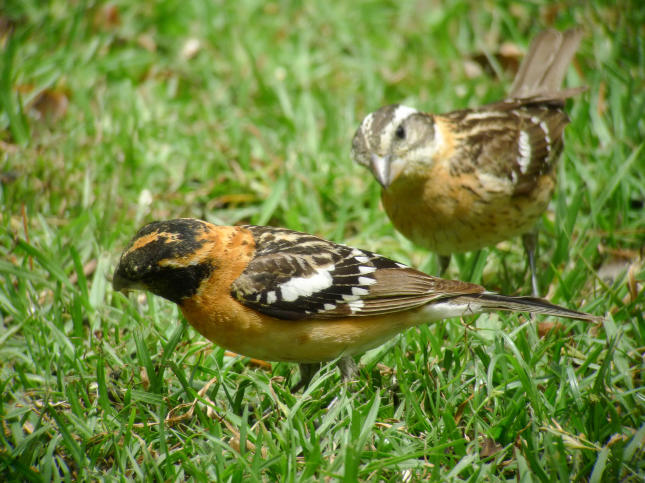 Left: Black-headed Grosbeaks forage on a lawn (Alan Pasqua)
Say goodbye to the colorful Black-headed Grosbeaks, who leave in October to return in April. Their strong thick beaks help them eat a wide variety of foods from seeds and berries to fruits and insects. When they return in spring, listen for their whistles as they fly.
Hot, dry Santa Ana winds stress birds, especially migrants. Keep birdbaths and other water sources clean and full, and you may have a yard full of grateful birds. Water also is a lifesaver, if fires burn large swaths of local habitat, as happens all too often in Southern California autumns.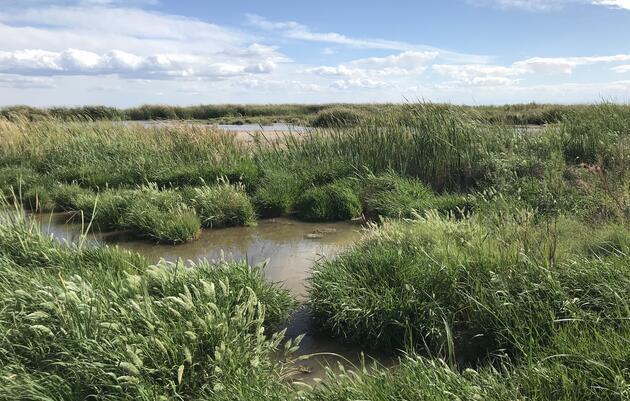 Right: The emerging Bombay Beach Wetland (Audubon)
Another critical stopover in the fall migration, the Salton Sea, is threatened by the current drought. With habitat shrinking elsewhere, this well-watered stopover has become critical, especially for birds making journeys of thousands of miles. Some stay all winter in this salty sanctuary, which provides food, water and quiet nesting areas. If you journey out that way, watch for Sandhill Cranes, who winter at this warm wetland. Audubon has a project to enhance some emerging wetlands at Bombay Beach on the lake's east side. For more information, visit the Audubon Bombay Beach web page.
Beautiful Northern Flickers have been in short supply along the coast in recent years because of runaway urbanization. However, this month you may see one or two as they migrate from inland and the mountains to the warmer coast for the winter. Flickers are, in fact, woodpeckers, which means they are looking for bugs of all kinds. Keep some mealworms handy, and soon you may see one on your feeder. If a trip to the Channel Islands is in your future, that's a good place to spot them.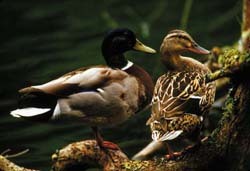 Left: Mallard pair in a pond
Southern California is not known for its geese and ducks, which makes it always a pleasure when they show up in the fall at local park ponds, coast estuaries and interior wetlands. Some of the Mallards you see are actually feral domestic ducks. They can vary greatly in size and color, because the feral birds interbreed with many other species found in local parks.
Pine Siskins may or may not show up at your nyjer feeders this month. Famously irregular in their appearances, these relatives of Goldfinches are streaky grey and black with maybe a line of yellow on their wings. They nest at altitude and sometimes come down in flocks to gorge at nyjer feeders alongside their Goldfinch cousins. But, their appearance is always a surprise and a mystery: Why this year? Why now?
Orionids meteor shower is late-October.
The famous arrival of Elephant Seals on the California coast starts this month, north of Hearst Castle.