November Nature Happenings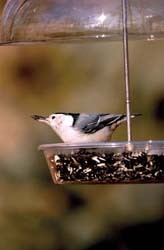 Do you want to participate in one of the biggest citizen-science projects in the world? If so, you are ready for Project Feeder Watch which starts November 1 and continues until April. This nationwide project simply counts the birds coming to feeders.
The best part is, you can choose how long you participate and where. No pressure. All you have to do is pick a couple of days per week—your choice—and a couple of hours per day, and watch the feeder in your yard, deck or patio. No sweat!
It's a great activity to do with friends from a distance. Who knows, maybe you'll count more birds than they do, maybe more than anyone on your block. For more information go to our Project Feeder Watch page.
Right: A White-Breasted nuthatch strikes a pose on a feeder
Below: A Starling flock fills the sky (All About Birds)
This month you will see that birds are beginning to flock, forming large groups, preparing for long-distance migrations. You may see huge numbers of birds moving together.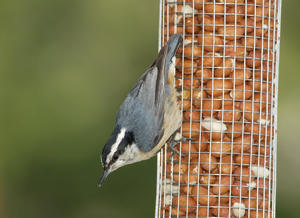 Some of the more colorful winter visitors, Red-breasted Nuthatches, are making their first appearances along the coast. We don't see them much in the summer, which they spend in the mountains to beat the heat. But, they're back for winter. They appreciate peanuts and mealworms.
Right: Red-Breasted Nuthatch on peanut feeder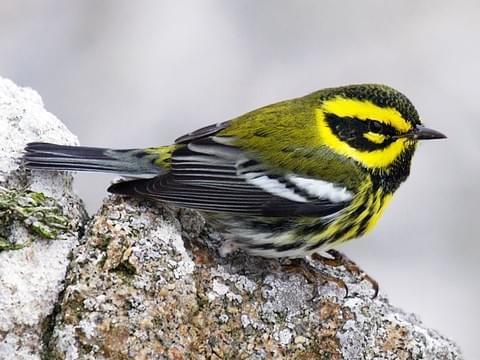 Joining the nuthatches are our most colorful winter residents, the Yellow-Rumped, Orange-Crowned, Townsends and Black-Throated Gray Warblers have arrived. They are looking for feeders with mealworms and will bring color to your yard, if you put out some of those delectable bites.
Left: A Townsend's Warbler shows off his bright yellow markings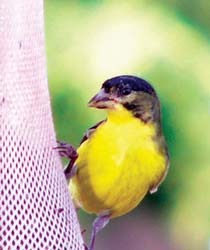 If your Goldfinch feeder has been slow, prepare for the winter onslaught. As the native foods in the mountains run out, they will be looking for new sources, and a nyjer feeder will be the answer to their prayers.
Right: A Lesser Goldfinch on a sock feeder
.
Fall migration "ends" by the last of the month. The birds that are in our area at the end of November will remain for the winter, So welcome your new neighbors with some of their favorite foods,.
Even if you're not a fan of sumo wrestling, you still might want to check out the annual arrival of the 5000-pound bull male Elephant Seals at Hearst-San Simeon State Park on the coast just north of Hearst Castle. After a summer of practice some of the younger males think they are ready to take on the big guys. The park gives you a ringside seat for the action.
The Leonid meteor shower will be at its height on Monday, November 18 from midnight to dawn. A great show, even if you have to go to work that morning.
The first "king tide," the highest tides of the year, will take place Nov. 13-15. The California Coastal Commission is asking photographers to be citizen scientists and take pictures of the unusually high tides this time of year. If you would like to participate, go to their King Tides Project web page to find out more. Don't worry if you miss this one. There is another king tide on Dec. 13-15. While you're on the beach or an estuary taking photos, you are certain to see some great shore birds as well.