Talk: All About Bluebirds with Ian Kimbrey, Jan. 23 at 1 p.m.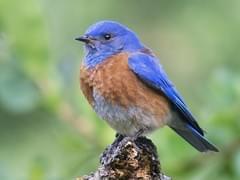 Ian Kimbrey knows gorgeous Western Bluebirds like few others.
He puts up nesting boxes by the dozens all over the Westside, as well as other parts of LA. Then he carefully counts the eggs and when he can, he watches the fledglings as they finally fly away.
He also builds perfectly designed nesting boxes--"chick magnets," he calls them--from recycled materials. These boxes are needed because their favorite places to nest, dead tree trunks, are in short supply in suburbia.
Somehow, with all this going on Ian finds time to be a beekeeper and bee rescuer.
Funny and entertaining, Ian not only will tell you all about these beautiful birds in our midst, but also how to bring them into your backyard. And, he'll bring some of his own CheepCheep Homes bird boxes to show.
Off-site event
RSVP Required by calling: 424-272-9000