September Nature: Barn Owls at Home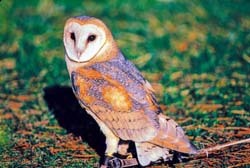 Barn Owls eat 2,000 rats each per year. To invite these cute and helpful birds into your yard, now is the time to start thinking about installing a barn owl box. Early fall is when young barn-owl pairs start to search for a hollow tree where they can start a family. Well, there are very few hollow trees in the city, so a barn owl box will look very good to them. If they find a place they like in the fall, they might start a family in January.
Left: A barn owl makes a rare daytime appearance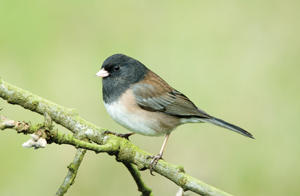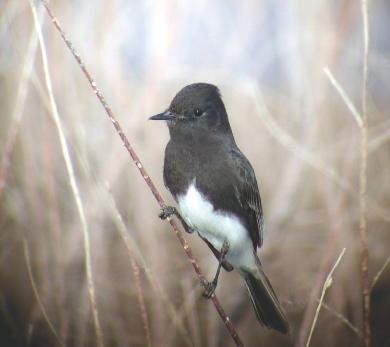 By late September, you should begin to see more Dark-Eyed Juncos (right) with their distinctive black-hooded heads and trilling song at your feeders. Though they are in some areas year round, winter is when they show up in greater numbers. Don't mistake our local Black Phoebes (left), insect-eaters whose beaks are much thinner, for Juncos. You also might see some northern Junco visitors (Oregons), who can have a rusty color to their underparts.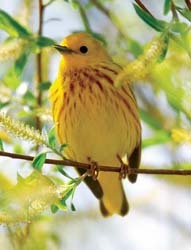 In September the fall influx of warblers picks up steam. Look for bright Yellow Warbler males with red-orangish streaks on their breasts searching your bushes for insects. They are here until October. At the end of the month, Yellow-Rumped Warblers will be arriving for the winter and hoping to find mealworms in your feeders. Right: Yellow Warbler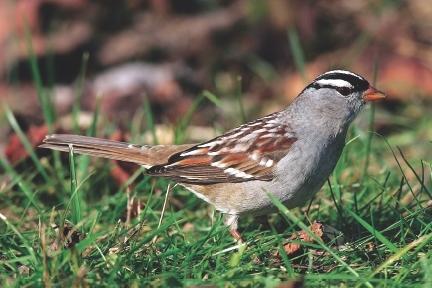 Look also for the first of the popular White-crowned Sparrows hopping beneath bushes or on the ground below your feeders. One good place to see them is beneath thickets of yellow giant ceanothus on Point Dume in March, but you can watch for them under your bushes anytime, starting now.
Left: White-Crowned Sparrow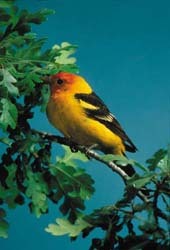 Your birdbath may draw some spectacular migrants in the fall, Tanagers and Lazuli Buntings, who are headed south. A few stay around for the winter in coastal neighborhoods, especially where there are flowering eucalyptus. Right: Scarlet Tanager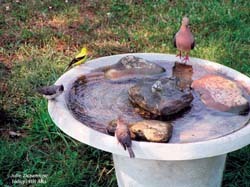 Your birdbath also could be a lifesaver in the event of fires. The fall conflagrations drive birds away from their familiar resources, water as well as food. Providing water gives them a sense of refuge when their world goes up in flames.
As we move into fall, Hummingbird activity remains strong. Most of our SoCal hummingbirds, the Anna's and Allen's, do not migrate. However, the Black-Chinned Hummingbirds, with a purple fringe around the males' black heads, are heading out for western and southern Mexico. You may glimpse a few before the end of the month.