Bird-Feeding Basics Class Postponed Date TBD
Do you know how to set up a bird-friendly space? Maybe not, because it does take some know-how. That expertise is exactly what we are going to share with you, as our bird-feeding basics classes resume online. Our Bird-Feeding Basics classes tell you all you need to know to get started bringing birds to your back yard.
This 45-minute class features our bird-feeding expert Julie Hanson, many colorful slides and the opportunity to ask any question you have. We'll cover all the tools and techniques that will make your feeding efforts a big hit with your local birds; including feeders, food, shelter, nesting and much more.
If you would like to attend, call the store at 424-272-9000 to reserve your place. We'll cap the participants at 15 so we can answer all your questions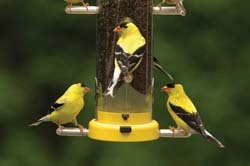 Left: Goldfinches flock to a feeder full of nyger
Here are some of the topics we'll cover
--Food: The right foods will bring in birds you want to see. Finches (above) love tiny nyjer seeds, bluebirds and woodpeckers love mealworms, and almost everyone loves sunflower seeds.
--Water: A birdbath, a little fountain or any kind of water feature will attract birds. They need to drink and bathe daily.
--Shelter: A small bush or a tree or even a patio overhang provides shelter and a place to scope out the feeder.
--Feeders: Whether it's a bright red nectar feeder for hummingbirds or a tube of selected seeds, we know which feeders will work for you.
--Critter Control: Squirrels, raccoons or even crows can raid your feeders. We know how to control even the peskiest.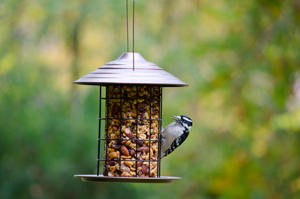 Below: A woodpecker enjoys a cylinder of nuts