January Nature Happenings
• Project FeederWatch continues, Click here for more information. Anyone can participate in this project, one of the major bird-counting efforts each year. Come in to the store (12433 Wilshire, at Centinela) , and we'll help you get started counting your local birds.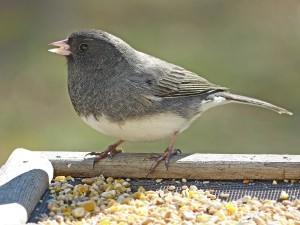 Dark-Eyed Junco at Feeder
• Coldest month of the year. Even without a danger of mosquitoes, flush out your hummingbird feeders and bird baths weekly.
• Blessed events! Many hummingbirds begin building nests, and the first Anna's Hummingbirds fledge. Yes, these tiny birds do breed during these cooler days. Keep your feeders full and clean. The perfect baby shower gift for a hummingbird mother is a ball of soft nesting cotton from Wild Birds. And, to see a mother Allen's Hummingbird, named Bella, in action, visit this live hummingbird nest cam.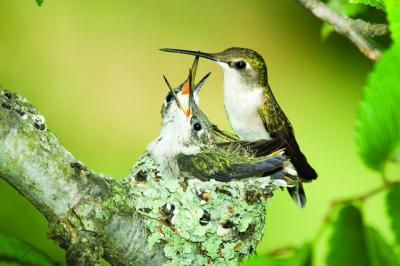 Mother hummingbird feeds babies
• Give woodpeckers, nuthatches, and bushtits the calories they need for the cold nights by providing fat-rich suet.
• Look for over-wintering Yellow-Rumped Warblers at your water source and suet feeders.
• Large raptors begin nesting late in the month. The Bald Eagles at Big Bear Lake have their own live Eagle Cam, as well as a Big Bear Bald Eagle Facebook page.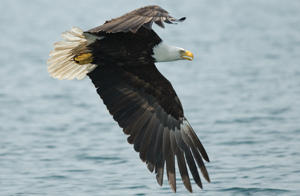 • The Goldfinch population peaks. Keep your feeders full.
• Downy Woodpeckers are drumming and drilling, looking for worms and grubs.
• Great Blue and other herons, and egrets begin nesting.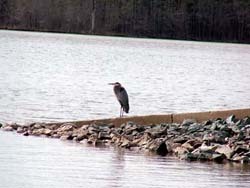 Great Blue Heron at water's edge
• It's an excellent month to watch birds along the coast and in coastal estuaries.
• Adult Heerman's Gulls leave for Mexico (reverse migration).
• Morro Bay Birding Festival, Jan. 18-21: Every Martin Luther King weekend more than 500 California bird lovers visit Morro Bay, about 30 miles north of Santa Barbara. Morro Bay is a globally important bird area, where sightings of more than 200 species of birds compete with panoramic views of the Pacific Ocean for birders attention.
• Birthday of Aldo Leopold (father of Wildlife Conservation) on Jan. 11. Visit the Aldo Leopold Foundation to find out more about this pioneering champion of nature.
• Quadrantid Meteor Shower happens Jan. 1 to 6 with peak the night of Jan. 3. See up to 60 meteors per hour!