November Nature Happenings
• Warblers galore! This is the time of year when you can see birds you have never seen before. You might encounter
Yellow-rumped (butter butts to their friends), Orange-Crowned, Townsend's and Black-Throated Gray Warblers throughout
Southern California. So, keep your mealworm feeders full.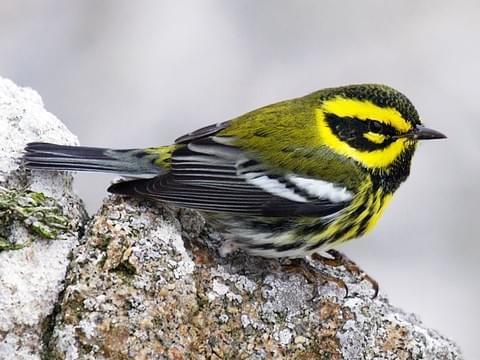 Townsend's Warbler
• Some Red-Breasted Nuthatches (below) make early appearances along the coast.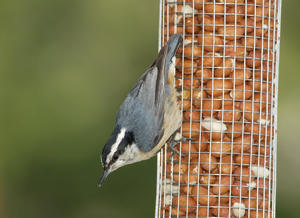 • Goldfinches flock to the coast to escape the colder weather inland. Keep your feeders full of nyger seeds, which give them the fat they need during cooler weather.
• Add more high-fat foods to all your feeders. Southern California may not be very cold, but nights are much longer. Birds need more fat to give them stamina for those long nights, especially the rainy ones.
• Want to get involved in some real wild-bird science? Sign up for Project FeederWatch (https://feederwatch.org/), which starts Nov. 10 and runs until April 5, 2019. You sign up on their web site, pick a spot in your neighborhood and start counting. There's even a photo contest, if that's your interest.
Not sure how to identify birds? Come in to Wild Birds Unlimited of Santa Monica. We're a sponsor of FeederWatch, and we'll be counting birds, too. We'll help you install the bird-ID Merlin app on your smart phone and show you how to submit your tallies. Doing bird counts, not only will show you what's happening in your own backyard, but also help scientists track long-term trends in bird distribution and abundance.
For a video about FeederWatch click https://youtu.be/4NY8zOxsVTk
• Bushtits come in large groups to suet feeders.
• Fall migration "ends," which means that the birds you are seeing now will stay in the Santa Monica area for the winter.
• First Glacous-Winged Gulls of winter arrive along the coast. These are big gulls that, conveniently, tell your their age by their color. Birds younger than three years old have mottled grey on their necks. The mature breeding birds have pure white heads and necks. Their dark grey-wings show just a hint of green.
• A few nonnative ("vagrant") Eastern birds appear during November. Like many of us who visit Southern California from colder realms, some "vagrants" will stay all winter before finding their ways back to more familiar environments.
• The spectacular Leonid meteor shower is mid-month, but bundle up to see them. The best viewing times, around midnight, are also the coldest!
Events
Saturday, Nov. 3, 9 a.m. to noon, Open Wetlands at Balboa Bird Walk (Los Angeles Audubon, first Saturday of every month), www.losangelesaudubon.org
Sunday, Nov. 4, 8 a.m. to noon, Topanga State Park Bird Walk (Los Angeles Audubon, first Sunday of every month), www.losangelesaudubon.org
Sunday, Nov. 11, 10 a.m., Birds and Beans, free presentation about coffee produced in unspoiled native environments. At Wild Birds Unlimited of Santa Monica, 12433 Wilshire Blvd. (at Centinela, opposite Armstrong Nursery). Free coffee and sweet rolls.
Sunday, Nov. 11, 8:30 to 11:30 a.m., Bird Walk at Upper Franklin Canyon/Sooky Goldman, Nature Center (Los Angeles Audubon, second Sunday of every month), www.losangelesaudubon.org
Saturday, Nov. 17, 8 a.m. to 11:30 a.m., Kenneth Hahn State Recreation Area Bird Walk (Los Angeles Audubon, third Saturday of every month), www.losangelesaudubon.org
Sunday, Nov. 18, 8 a.m. to noon, Ballona Wetlands Bird Walk (Los Angeles Audubon, third Sunday of every month), www.losangelesaudubon.org
Sunday, Nov. 25, 8:30 a.m. (10 a.m. for families), Malibu Lagoon Nature Walk, (Santa Monica Audubon, 4th Sunday of every month), http://www.smbasblog.com