Beginner Bird ID Class, Saturday, January 19, 1 p.m.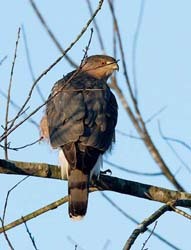 A Cooper's Hawk rests in a tree
Are you new to bird feeding or watching, or do you just want to know what birds are fluttering about the trees on your street this time of year? Wild Birds Unlimited's Andrew Walker will help you identify the local birds that you see every day, including house finches, goldfinches, hummingbirds, jays, warblers, juncos, wrens, towhees, and more. Class will last about 30 minutes with time for questions.
Best of all, it's free!
One of the few happy results of the current wildfires is that you may be able to see birds that rarely leave their mountain homes. They are coming into Westside neighborhoods as temporary refugees from the flames.
With their usual food sources up in smoke or covered with ash, they need feeders more than ever before if they are to survive the coming cold nights. Andrew help you recognize some of these avian visitors.
Andrew also will be talking about the beautiful American Goldfinches, which will be returning to our area. These brilliant yellow birds love to cluster around feeders to get their favorite food: nyger (thistle) seeds. Hang up a feeder full of nyger (designed especially to feed goldfinches and available at Wild Birds unlimited) and watch as four or five of the little birds crowd around to pluck the tiny black morsels enthusiastically from the feeder.
See you Saturday, January 19, 2019, at 12433 Wilshire Blvd. (at Centinela, across from Armstrong Garden Center).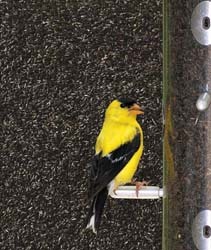 Goldfinch eating nyger