Project FeederWatch 2020
If you ever wanted to be a citizen scientist, the coming months are a good time to start. Project FeederWatch begins November 1 and continues until April 1. How do you participate? Follow these simple steps:
1. Put up a feeder
2. Go to the Project FeederWatch web site and sign up ($18) to get your ID number. Do this as soon as possible.
3. Decide when to watch your feeder:
--Pick two consecutive days a week to watch birds at your feeder, such as Tuesday and Wednesday. Pick two days that fit your schedule.
--Stick to those days, no matter how many or how few birds you see.
--Watch as much as you can, but don't worry if your time is limited. Even a half-hour can be valuable.
--Use your tally sheets (see below) to keep track of the date, how much time you watched and the birds that you saw.
--Don't worry if you miss a week, Just start again the next week.
4. Download the FeederWatch app (also in the Google Play Store) or PDF tally sheets. Keep them handy to the spot where you watch your feeder.
--Use one sheet for each week that you watch your feeder.
5. Submit your data on the FeederWatch web site.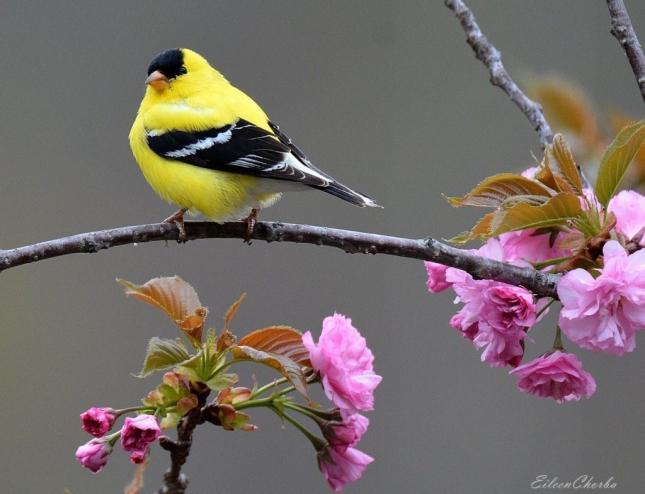 Bird Spotter Photo Contest
Whether or not you are counting birds, you can enter the Bird Spotter Photo Contest. Last year's Grand Prize winner, Eileen Chorba, took this beautiful photo of a male American Goldfinch, who was in full bright yellow plumage. His cousins, the Lesser Goldfinches, can be seen every day around Southern California.
The prize is supported by Wild Birds Unlimited. For more information, go to the Birdspotter Photo Contest web page.
Eileen Chorba of Beach Lake, Pennsylvania, took this colorful photo of a male American Goldfinch