Beginner Bird ID Zoom Class January 30 at 2 p.m.
POSTPONED - Please check back for updates on this event!
Are you new to bird feeding or watching, and don't know the names of the birds you're seeing? Or do you just want to know what birds are fluttering about the trees on your street this time of year? And, of course you want to stay safe.
Right: Hooded Oriole (All About Birds) They're back for the summer, a splash of color in your yard.
That's why we're doing our Beginner Bird ID classes on Zoom.
On Saturday, January 30 at 2 p.m. Wild Birds Unlimited's Andrew Walker will help you identify the local birds that you see every day, including house finches, goldfinches, hummingbirds, jays, warblers, juncos, wrens, towhees and more. The class will last about 45 minutes with time for questions.
Best of all, it's free! To join the class, we will provide a link that you can paste into your browser: (watch this space). If you have any problems joining the class, just call Wild Birds Unlimited at 424-272-9000.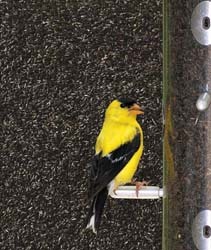 In the summer, if it's hot for you, it's hot for the birds. Many will seek shelter in your bushes. Sometimes you hear many more birds than you see, such as Orioles checking out your fruit trees. Andrew will help you recognize those birds.
Left: American Goldfinch eating nyjer seed
There may be Canyon Wrens, singing their lilting songs in the cool of the evening or twittering Goldfinches, looking for the tiny seeds they favor.
Local Hummingbirds wait until winter to nest, but Andrew will tell you how to get ready for the arrival of the babies. Fall is the time for wildfires, and those fleeing their blazing mountain homes will appreciate your seed feeders. They come into Westside neighborhoods as a temporary refuge from the flames. Andrew will help you recognize some of these new avian visitors.
See you Saturday, August 29th, at 2 p.m. on Zoom. And stay safe!
Link to Join Zoom Meeting: coming soon
Meeting ID: 956 3407 0160