Beginner Bird ID Class December 14 at 1 p.m.
Yellow-Rumped Warbler (All About Birds) They're back for the winter, a splash of color in your yard.
Are you new to bird feeding or watching, or do you just want to know what birds are fluttering about the trees on your street this time of year? On November 9 at 1 p.m. Wild Birds Unlimited's Andrew Walker will help you identify the local birds that you see every day, including house finches, goldfinches, hummingbirds, jays, warblers, juncos, wrens, towhees, and more. Class will last about 30 minutes with time for questions.
Best of all, it's free!
In the fall it's cool enough often for a walk in the mountains, where you are likely to hear many more birds than you see, such as the Yellow-Rumped Warbler above. Their lovely songs reverberate along the hills as they feast on the bugs among the flower blooms after last year's fires.
Be on the lookout for other warblers, such as Townsend's, who also will be in Los Angeles for the fall, winter and spring. Put out a mix of seeds in your feeder and, for a real treat for warblers, add some mealworms (yum!).
Local hummingbirds wait until winter to nest, but Andrew will tell you how to get ready for the arrival of the babies. Fall is the time for wildfires, and those fleeing their blazing mountain homes will appreciate your seed feeders. They come into Westside neighborhoods as a temporary refuge from the flames. Andrew help you recognize some of these new avian visitors.
The beautiful American Goldfinches will be wintering here from their mountain homes. These brilliant yellow birds love feeders filled with their favorite food: nyjer (thistle) seeds. Hang up a nyjer feeder (designed especially to feed goldfinches and available at Wild Birds unlimited) and watch as the little birds crowd around to pluck the tiny black morsels from the feeder.
See you Saturday, October 5th at 1 p.m. at 12433 Wilshire Blvd. (at Centinela, across from Armstrong Garden Center).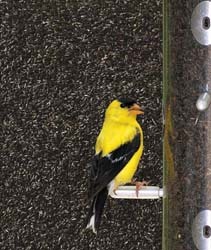 Goldfinch eating nyjer seed.